EndingTheFed.com is filled with dubious articles taken from other right-wing websites.
For much of Sunday and into Monday, Fox News host Megyn Kelly was one of the top Trending Topics on Facebook. Her name appeared in the sidebar seen by Facebook users in the United States: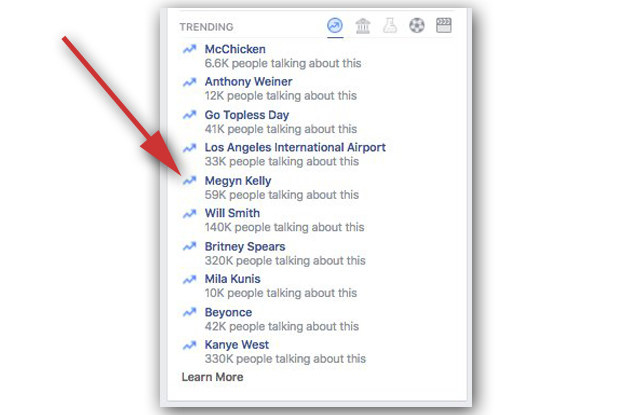 Facebook
If you hovered your mouse over her name, up popped a story claiming that Kelly had been "kicked out" of Fox News "for backing Hillary." The story was from a site called EndingTheFed.com – and it's false.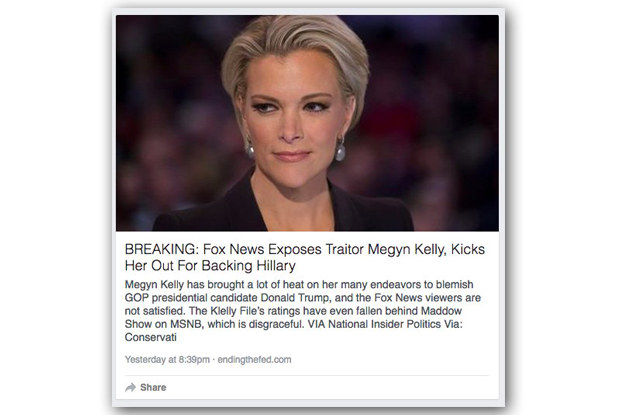 EndingTheFed.com was anonymously registered by its current owner in March of this year. The site has grown quickly thanks to a strategy of publishing aggressively pro-Trump, right wing stories. Even more notable is that the majority of its recent stories are simply taken word-for-word from other right-wing sites.
That means Facebook, the largest social network on the planet, actively promoted a fake story from a website that basically exists to republish other, often dubious, posts from fringe sites on the conservative web.
It's unclear whether Ending The Fed has permission to republish content from other sites, or if it's committing mass plagiarism. BuzzFeed News contacted the site but has not heard back. Facebook declined to comment on the record about how the story made it to the Trending Topics list.
Facebook
Even before Facebook gave it a boost, Ending The Fed was getting big hits on the social network. The site's top five stories have together racked up over 1.2 million likes, shares, and comments since May: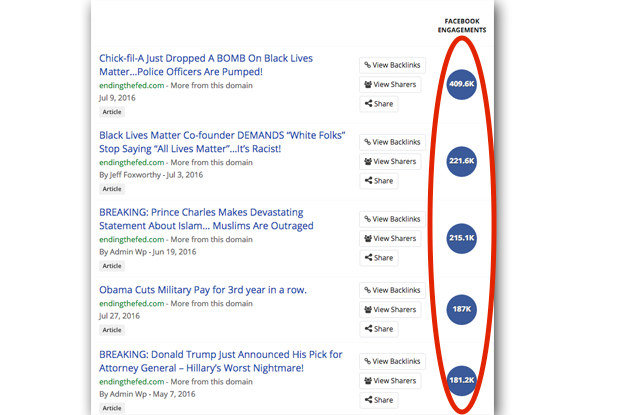 The top story is a word-for-word reprint of this story, while the (partially false, partially true) claim about Obama cutting military pay is taken from here.
It's unclear whether Ending The Fed's success on Facebook in recent months caused it to be selected as the top story for the Megyn Kelly Trending Topic. On Friday, Facebook announced it was no longer using humans to write the summaries that accompany Trending Topics, though human engineers would be reviewing the topics selected by the algorithm.
Facebook previously announced measures to try and reduce the spread of fake news on its platform, but a BuzzFeed News report found that false stories continue to receive strong engagement.
BuzzSummo
Ending The Fed often republishes false stories. The same day it ran the Kelly story it also incorrectly reported that NFL quarterback Colin Kaepernick had converted to Islam: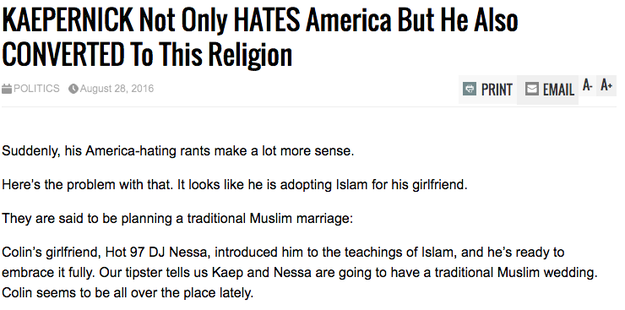 Ending The Fed's story was a word-for-word repost of this from Clash Daily, which claimed Kaepernick had converted. That post was based on a claim from a sports gossip website, which cited anonymous "people close to the player" who said Kepernick is going to become Muslim.
Kaepernick recently attracted criticism after he refused to stand for the national anthem before a football game; he has said nothing about converting to Islam.
Ending The Fed / Via endingthefed.com
---